EDitorial Comments
I've just added another batch of rare pulps and pulp-related books to the Collectibles For Sale section, including several bound volumes of the legendary Black Mask (previously owned by the magazine's editor, Kenneth White), three collections of Johnston McCulley novelettes originally published in Detective Story Magazine, and a classic 1936 issue of The Shadow Magazine in high grade. And I've added a sharp copy of the first mass-market collection of Black Mask stories, The Hard-boiled Omnibus.
The Black Mask bound volumes include 18 consecutive issues from September 1943 through May 1946. The provenance alone should make these three books very desirable, but I realize that many collectors would be satisfied to own just one of them, so being in an experimental mood I'm also offering the third volume in the sequence by itself. If it sells before the lot of three, I'll list the others singly as well.
Aside from being in exceptionally nice condition, the Black Mask books cover an historically important period in the magazine's development. By this time Mask was no longer the hard-boiled, rat-a-tat-tat pulp edited by "Cap" Shaw; it had settled into a medium-boiled mode, with fairly orthodox murder puzzles solved predominantly by private eyes. Under Ken White the prose was no longer terse or chiseled, and the detectives often boasted amusing eccentricities. Leslie Charteris' The Saint and Brett Halliday's Michael Shayne are two of the well-known super sleuths found in these mid-Forties issues, many of which sport striking woman-in-distress covers painted by Rafael de Soto, a past master at this sort of thing.
The Johnston McCulley books, published by Street & Smith subsidiary Chelsea House, reprint the adventures of his popular series characters created for Detective Story Magazine: Black Star, The Spider, The Thunderbolt. These yarns, now difficult to find in their original pulp-magazine appearances, hardly match the quality of Black Mask fiction edited by Cap Shaw and Ken White, but they have many of the qualities of later hero pulps and therefore still have adherents today. The Chelsea House hardcovers are nearly as tough to find as Teens issues of Detective Story, and they're almost impossible to get in jacket. The copies I'm selling, while well read, are perfectly sound, eminently collectable, and—in my opinion—fairly priced given their scarcity these days.
The April 1, 1936 issue of The Shadow Magazine carries one of the most memorable novels in the history of this long-running pulp. Reportedly, "The Salamanders" was commissioned by editor John Nanovic as a reaction to the action-packed adventures of the Spider, whose Popular Publications magazine was giving The Shadow some stiff competition. In my view, Walter Gibson was simply incapable of emulating Spider scribe Norvell Page, and while "Salamanders" was well received by faithful fans—ranking high in the first poll of reader favorites taken in 1937—it was by and large a one-off. Perhaps for that reason, and for the striking George Rozen cover, the April 1, 1936 number remains quite desirable. The copy I'm offering is a high-grade beauty marred only by a small chip in the front cover.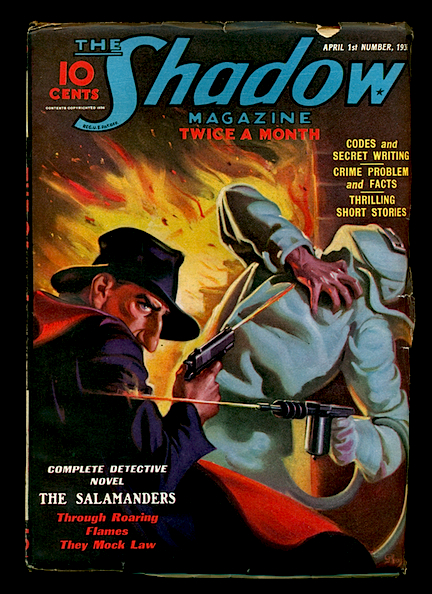 There's still lots of good stuff available in the Collectibles section; check it out.
Recent Posts
---
Archives
---
Categories
---
Dealers
---
Events
---
Publishers
---
Resources
---
Search
---